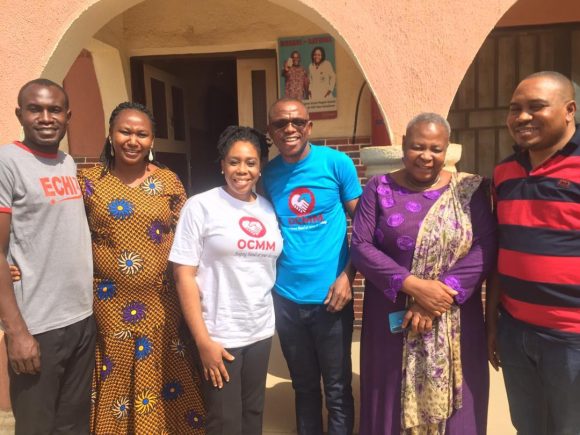 The Senior Pastor and Founder of Dunamis International Gospel Church, DIGC, Dr. Paul Enenche said the Philanthropic Non-Profit Organization-NGO, under the auspices of Odumehaje Christian Medical Mission, OCMM will make a global impact if it continues to give priority to its designed mandate of providing free and quality healthcare and other essential services to humanity to build peace, unity and development of the country.
The senior pastor of DIGC, Dr. Paul Eneche with the co-chairs of OCMM, Dr. Paul and Mrs Martha Odumu
Pastor Dr Paul Enenche stated this in a private meeting with OCMM shortly after Inaugurating the FCT Zone of the Organization at Glory Dome, Abuja, Nigeria.
The Clergyman who Prayed for the progress of OCMM to meet its global goals, pledged his continued support and formally endorsed the Christian Missionary Non-profit Organization.
In their Keynote address, Chairman/CEO and Co-Chairman of OCMM Dr. Paul and Mrs Martha Odumu said the exercise was a confirmation of prophecy concerning the expansion of the organisation as it takes affordable, comprehensive and quality Healthcare as well as Essential services and Hope to underserved communities in Nigeria, and other communities around the world.
Dr. Paul, tasked the FCT zone to take advantage of its size and capacity to work in furtherance of OCMM goals, vision and Mission to meet global standards.
"Mobilizing and recruiting volunteers: Health workers and workers from all walks of life should be individuals from Christian and non-Christian communities who share in the OCMM vision."
"Holding periodic meetings for Christian discipleship and training programmes of OCMM team members at the temporal office in Masaka Medical Centre".
"Seeking partnership with government agencies, philanthropists, NGOs, and Faith-Based Organizations".
"Reach out to drug companies to provide and support OCMM medical outreaches with drugs".
"Financial empowerment through entrepreneurship and OCMM cooperative society".
"Seek grants for the actualisation of the OCMM missions around the FCT and Nigeria at large".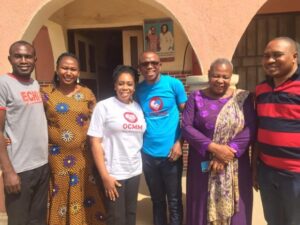 From L-R: OCMM FCT Head of Mission Minister, Mr. Steve and his wife, Mrs. Martha IKwu; OCMM Co-chairs, Mrs Martha & Dr. Paul Odumu; Member OCMM Board of Trustees, Ms Ene Ede; FCT Head of Mission Minister, Dr. Emmanuel Anthony 
And finally, "Partnering with OCMM national headquarters in carrying out medical outreaches and her other activities.
During surgery at the Kogi Medical outreach, December 2020
In his reaction, the OCMM FCT Head of Mission, Dr Emmanuel Anthony promised to sustain the group's vision by recruiting more volunteers to manage the zone, pointing out that, his hospital at Masaka Medical Centre will be made available for OCMM Services and programmes in the meantime.
During the dedication, Board of Trustee Member, Ms Ene Ede encouraged the FCT OCMM team to remain committed to the course of serving both God and humanity as she pledged her unwavering support for the OCMM mission and outreaches in Communities across the country and the world at large.
Some of OCMM and Raymond Akor Foundation team members during the Kogi State Free Medical Outreach, December 2020
Earlier, Dr. Paul Odumu disclosed that the Christian Missionary Organization has branches in Kaduna, Benue, Jos, Lagos, PortHarcourt, and now, FCT, and has embarked on 27 free medical and surgical outreaches in different communities across Nigeria including Benue, Kaduna, Taraba, Plateau, Nassarawa and most recently, Kogi State, where about 2000 people within and outside the state benefitted.
"So far, OCMM has impacted on Over 300,000 people since her the inception of Medical Missions in 2007".

Dental care during the Kogi free medical outreach
He said OCMM facilitated the establishment of a well equipped secondary health facility at Ugbokolo community of Benue State and has indicated willingness to set up another one with an incorporated Health Insurance Scheme in partnership with an NGO at Agaliga-Efabo in Olamaboro LGA of Kogi State to help address the health need of the community and the entire state.
Dr Paul added that the decision became imperative following the request from the community after the just concluded free medical outreach which was conducted by OCMM in partnership with Raymond Akor Foundation, where stakeholders from the benefiting communities say it was a gesture the entire state never had.
Read more at: ekohotblog.com