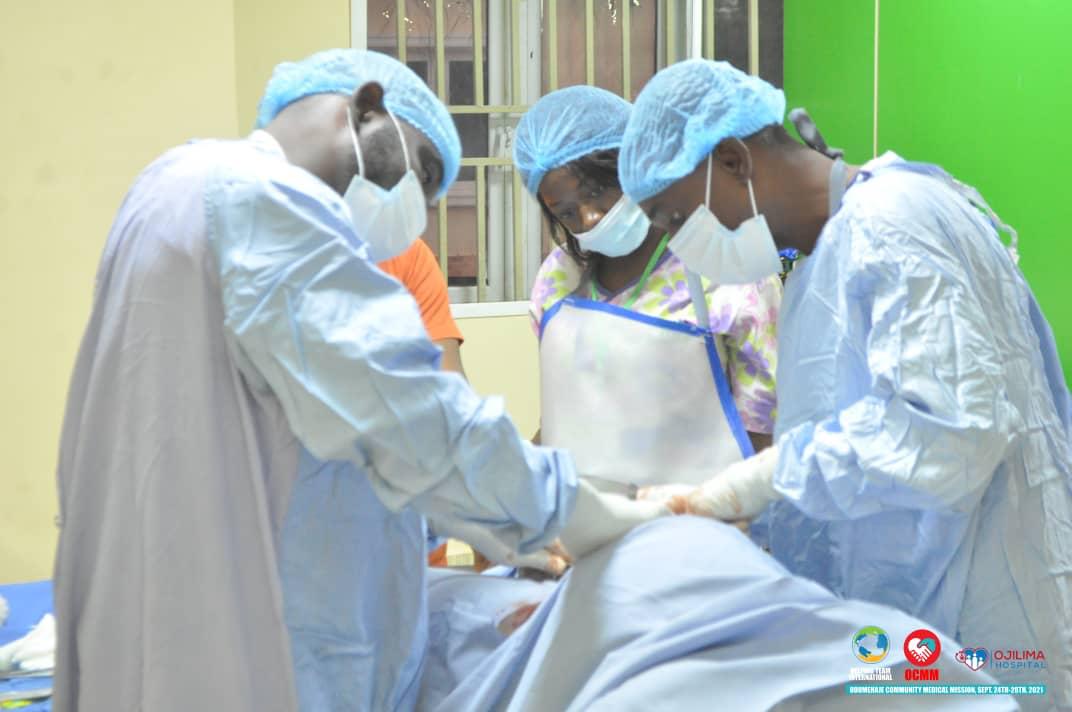 A forty-year old woman with multiple uterine fibroids has undergone a successful free surgery, alongside others with complicated medical conditions like acute intestinal obstruction, intra abdominal mass, as well as a Caesarean section done for a twin pregnancy among others, at the on-going medical outreach.
It would be recalled that the medical outreach is organized by missionary groups, Odumehaje Christian Medical Mission (OCMM) in collaboration with Helping Team International (HTI) and Ojilima Hospital, at Ugbokolo, Okpokwu LGA of Benue State, Nigeria.
Addressing the media during the five-day exercise, a consultant ENT and general surgeon, Dr. Andrew Iduh, who is also a volunteer for the missions disclosed this at Ojilima Hospital and venue for the humanitarian exercise.
The medical consultant explained that a young woman presented at the outreach venue with a history of abdominal swelling and pains with massive uterine fibroids on examination, a situation he described needed surgical intervention.
An abdominal scan was conducted to confirm the diagnosis after which a myomectomy and appendectomy were carried out silmutaneously to remove the multiple fibroids and the inflamed appendix.
Dr. Iduh said, her fallopian tubes were found to be normal and the patient according to him, was clinically stable and set to be discharged after 48 hours.

Responding, the beneficiary, Ms. Helen who described information as power, expressed gratitude to the faith-based groups for organizing such a humanitarian event, and prayed that those who were not informed about the event would have the privilege to attend the next outreach regardless of location and distance.
She called on well-to- do Nigerians to join hands together and synergize efforts in the provision of facilities like good roads, accessible healthcare and water supply among others, toward making the country a better place instead of flying abroad in search of greener pasture.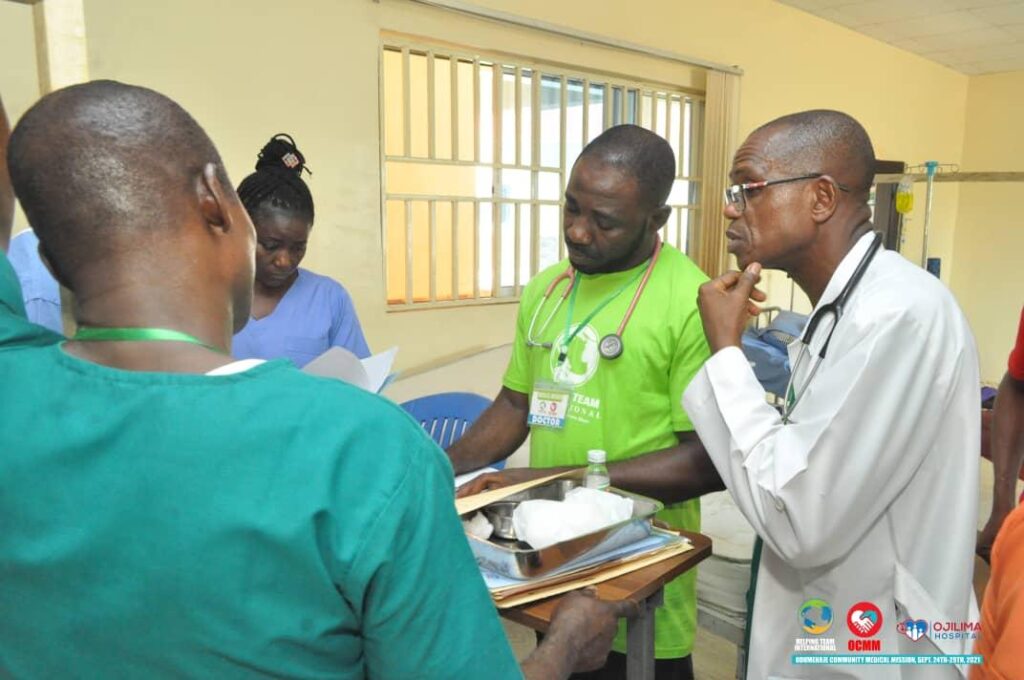 ''I did a scan before, the result showed there were only five fibroids, but to my greatest surprise, they removed more than seven fibroids, a big one and other smaller ones, and even appendicitis too was discovered, which I had done surgery for and thought it had been removed ''
''After everything, the surgery was successful, thank God, I am here. I can talk, lift my legs, and even stand'', she added.
Similarly, a 28 year-old lady with a scan result that showed she was carrying an intra abdominal swelling for over four years, which had been compressing on her intestines, making her to look pale from the pains and growth of the masses.
Intra operatively, Dr. Iduh said swollen masses were removed and sent to the laboratory for histology.
Another emergency situation handled was a woman who came in labor and was delivered of twin babies through cesarean section.
Dr. Iduh attested that the surgery was successful and both twins delivered safely, though accidental findings in the uterus showed that the mother had a uterine fibroid that co- existed with her pregnancy which was also removed.
According to him, indications for the surgery were: twin gestation, obstructed labor, cord around the neck of one of the babies and uterine fibroid. These required emergency surgery.
The twins, both females were clinically stable with their mother. She's considered the most benefitted person from the on-going outreach so far.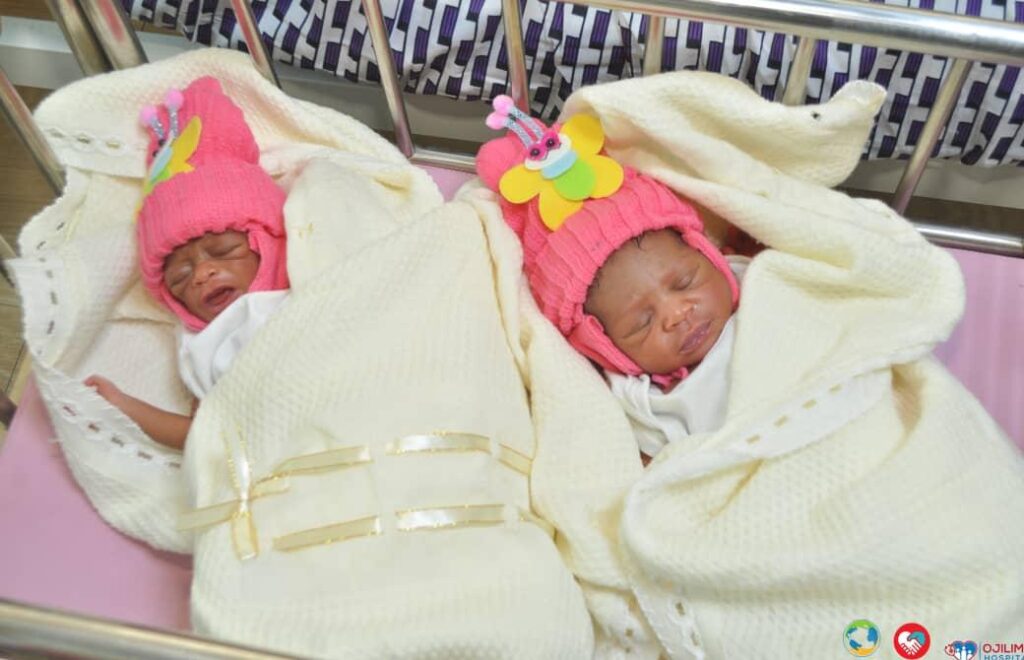 ''I want to thank this organization for the love they've shown me, I didn't know how but something just directed me to this place and when I came, I was attended to. My labor started within a short period of time and I was delivered of twins via surgery and my babies are doing well.''
Another major case that climaxed the exercise for day 3 was that of a seventy year old man who was rushed into the venue with acute intestinal obstruction.
After examination, he was discovered to have a bloated abdomen with peritonitis characterized by abdominal pains, constipation, vomiting, among others.
Dr. Iduh explained that an emergency exploratory laparotomy had to be done, and fluids permeating from the intestines of about 5 liters were drained from his abdominal cavity.
He said, the most significant findings were the matted intestines, where the small intestine contained multiple twists. He did a thorough examination to be sure there were no perforated organs, and untwisted the small intestines.
Drs. Iduh, Egbe and Attah who were at the theater conducting surgeries ranging from minor to major, posited that the patients were clinically stable in their various wards, with assurance that in due time, specifically after 24 to 48 hours, they will be discharged home to their families.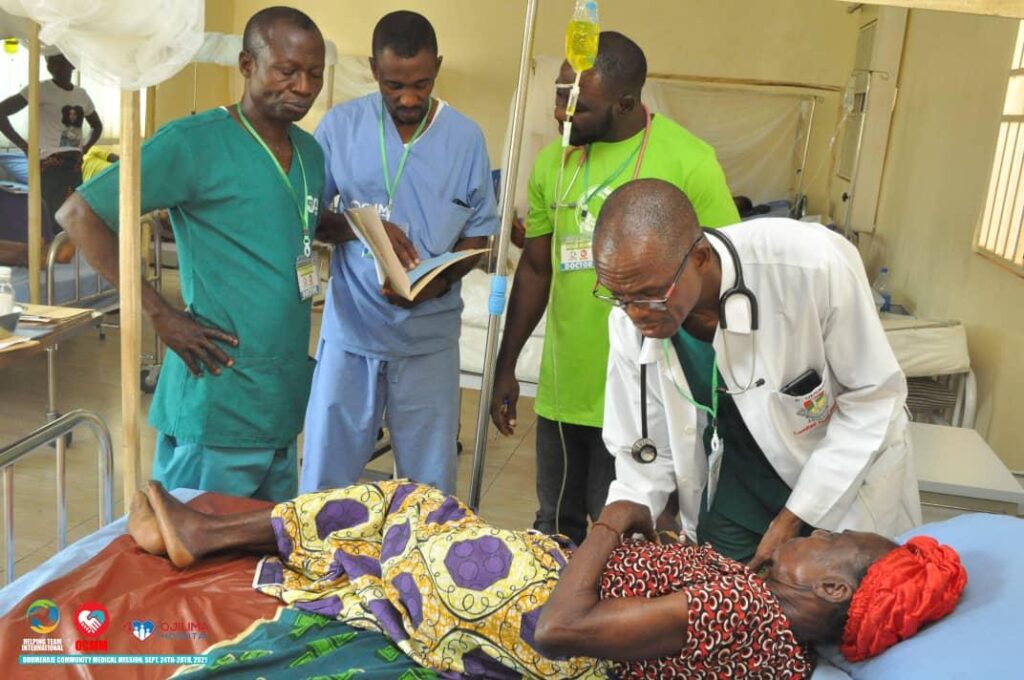 The whole team comprised of vibrant volunteers ranging from Specialist doctors, medical officers, nurses, dentist, laboratory scientists/ technicians, pharmacists, nurse aides and non- medical volunteers from all walks of life, working round the clock to achieve the goals for the outreach.
Read More at: vilicitynews.com authenticnewsdaily.com newnigerianewspaper.com