A Christian Missionary Group under the auspices of Odumehaje Christian Medical Mission, OCMM, in partnership with the Helping Team International, HTI has embarked on a 3-day free Medical-Surgical Mission at Egbemo- Angalabiri and Tunu Communities in Ekeremo Local government area of Bayelsa State, Nigeria.
The event which was planned for three days was later held for a day and a half due to the difficult terrain of the area and the communal clashes in the bordering district of Rivers State that prevented passage to the team on the scheduled date due to the curfew imposed by the state's government.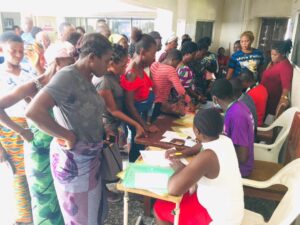 Declaring the event open, the Chairman/CEO of the Philanthropic Organizations, Dr. Paul Odumu said the event became necessary following the numerous health Challenges bedeviling the area which he attributed to environment, lifestyle, poor sanitation and unhealthy water source, that had led to avoidable deaths due to ignorance.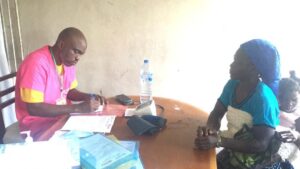 Dr. Zaaka Zawua, Consultant Obstetrician, volunteer at the HTI/OCMM free medical outreach consulting a patient.
He maintained that the event was also an avenue for the missionary group to preach the message of hope and salvation to the people toward building their confidence in God almighty.
The beneficiaries like Mr. Abraham and Mrs. Manaseh expressed delight over the gesture and thanked the Organizations for sparing their time, talents and resources to deliver them from their aged long health challenges.
Some of the services rendered during the free medical outreach included laboratory investigations, medical consultations and treatments, dental and general surgeries, health education/promotion, COVID-19 education and prevention measures, as well as free pharmacy pickups.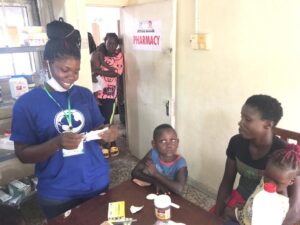 A total of one thousand and fifty-four people benefitted from the free medical outreach.
Statistical breakdown indicated that, the free medical outreach Programme recorded sixteen general surgeries, forty dental and ninety eight laboratory investigations among others.
Speaking on behalf of the community, pastor Bartholomew Udenyi, the host pastor, described the event as a welcomed development, and called on other NGOs, governments and corporate organizations to emulate OCMM/HTI for the betterment and progress of the community and the state in general.
For more information, visit Eko Hot Blog