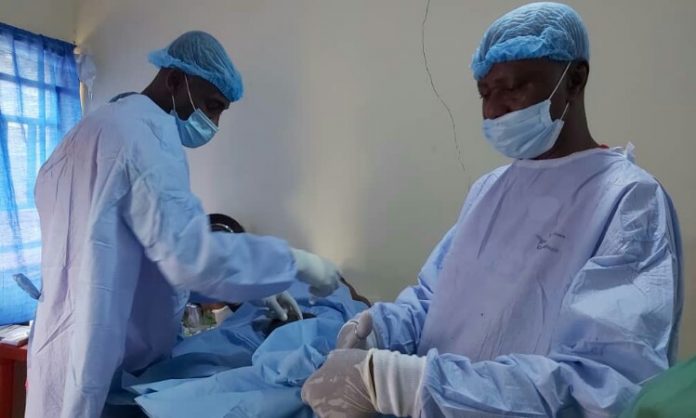 LOKOJA, North-Central, Nigeria – Kogi State Government has expressed commitment to supporting the ongoing week-long free medical and surgical outreach organized by the Odumehaje Christian Medical Mission, (OCMM), in partnership with Raymond Akor Memorial Foundation, (RAMF) in Olamaboro Local Government Area.
Acting Chairman of Olamaboro Council, Mr. Ameh Damian, stated this when he visited the outreach center at the Agaliga Primary School.
He said the provision of health care services was one cardinal point of government's responsibility and applauded OCMM and RAMF for a job weldone.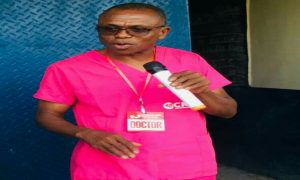 Ameh, while expressing satisfaction and happiness over the development said, he would leave no stone unturned toward ensuring that the good news is conveyed to the Governor for swift action.
"I want to express the sincere appreciation of the state Governor, Alhaji Yahya Bello to the leader of the team.
"When I heard about this medical outreach, I decided to come and see things for myself; and by the grace of God I promise to go beyond myself to table your request to the appropriate quarters.
"Whatever you are doing now, is service to God and humanity; and the whole community is shaking because men of value are in the town.This is the first time I am seeing something like this.
"For living your comfort zones to the rural community to assist the less privilege really shows that you people are God's chosen.
"We want to know if you are government sponsored or not, and what is the composition of this group? What are your observations, challenges and suggestions for a way forward?"
Responding, the Chief Executive Officer of OCMM, Dr Paul Odumu, explained that the NGO had for over 22 years offered various health interventions to various rural communities across the country in general consultations, laboratory services, surgeries, education and health talks, among others.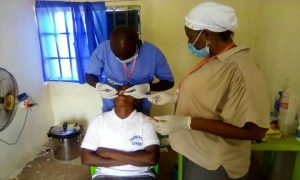 A patient undergoing dental surgery during the exercise.
He disclosed that the group has never received any grants from government, but only funded from personal pockets, members of the Board of Trustees, Churches as well as spirited individuals and partners across the country.
The Consultant Family Physician added that the ongoing week-long medical outreach and surgical missions was in partnership with Raymond Akor Memorial Foundation to mark one year anniversary of the late CEO, Raymond Akor, who died last year and left his huge mission unaccomplished.
He commended the family of the late hero for their doggedness by making the outreach possible through donations of drugs and finances, alongside other pharmaceutical companies as well as professional friends who also assisted via cash donations.
He also said that the medical outreach had so far witnessed no fewer than hundred surgeries from hydroceles, hernias, ruptured appendix, scrotal and congenital complications in children.
"These include dental surgeries of different kinds alongside treatment of diabetes, hypertension, malaria/typhoid among others, which had sum up to over six hundred people been attended to.
"The medical cases here are much that we cannot finish tackling them within just a week, if the State Government will assist us with finances and man-power as you said, then we will need serious collaboration with the Ministry of Health during the second phase of the outreach.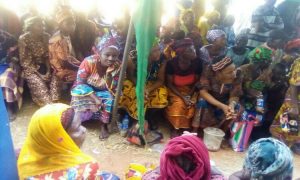 Citizens patiently waiting to be attended to by the experts during outreach.
"The financial value of the week-long free medical outreach and surgical missions is within the estimate of 7 to 10 million Naira. So it would take us time to source for another money for the exercise, since we don't have sponsors anywhere."
Dr Odumu said due the demands of citizens coupled with limited time and facilities at hand for effective health coverage, the organization is planning a collaboration with the community and Raymond Akor Memorial Foundation to establish a well equipped secondary level hospital with a community-based health insurance scheme that would be cheap and accessible to the people.
For full details on this story please visit Daily News Prescise