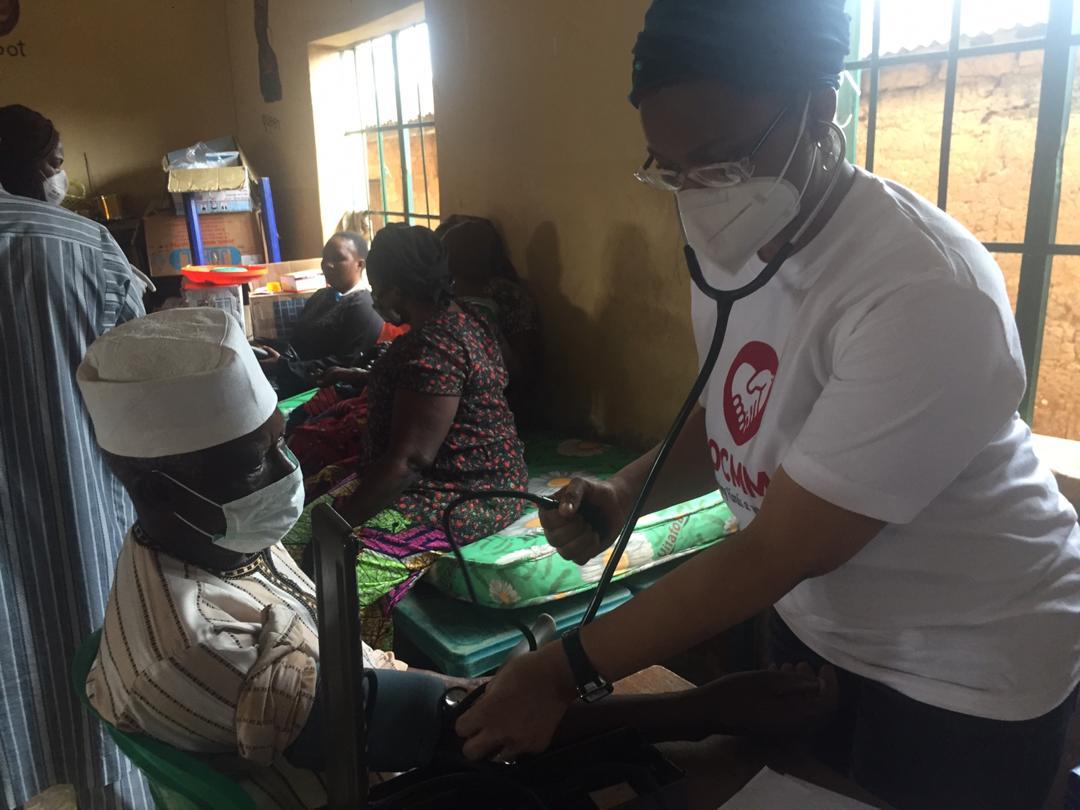 Not Fewer Than Three Hundred people in Kogi State have receive free consultation and medical treatment from different ailments at the ongoing week-long medical outreach and surgical mission in the state.
A Consultant Family Physician with 44 Army Hospital Kaduna Dr. Paul A. Odumu disclosed this during a joint Medical and Surgical outreach mission of Odumehaje Christian Medical Mission, OCMM and Raymond Akor Memorial Foundation, RAMF at Agaliga Efabo, Imane in Olamaboro Local Government, Kogi State.
The Consultant Family Physician and CEO-Odumehaje Christian Medical Mission explained that the collaboration for free rural medical outreach to the poor followed the base-line surveys which revealed that the community was in dire need for functional health facilities to tackle their medical need.
According to him, the free diagnosis and treatments were carried out by Doctors/ Surgeons, Consultant Family Physicians, reproductive health providers, Senior community health extension workers, Lab scientists, and dental therapists among others.
He however pointed out that the health conditions discovered during the diagnosis were highly associated with the agrarian nature of the people and cut across ailments in general medical practice to include: hydrosil, hernias, glycomas, diabetes, hypertension, appendicitis, infection and infertility, malaria/ typhoid, abdominal problems and worm infestation among others.
In his response, Senior Registra – ORL, and Head/Neck Surgeon Dr. Iduh Augustine Andrew from Jos University Teaching Hospital, Juth confirmed that he had successfully conducted medical surgeries for over Ten patients with different ailments ranging from bileteral hernia and exploratory laparatomy, ruptured appendix among others.
Dr.Augustine Andrew noted that medicine and medical field was not all about fortune or money making but an avenue for service to humanity.
He urged well spirited Nigerians including medical practitioners to always extend helping hands to others, especially the less privilege as a way of extending God's love for humanity to others.
It was gathered however that over one hundred and fifty people were diagnosed from the consultancy unit, thirty from the laboratory unit of the team with various treatments along side drugs administration, dental surgeries numbering up to fourteen were conducted ranging from dental caries, halitosis also known as bad breed and calculus, while the counselling/ deliverance unit had attended to over sixty people, attested to by Dr.Fidelis Ajuonuma from consultancy, Paul Elijah from Laboratory and mathew musa from dental unit.
Remarks from the chief executive officer, Raymond Akor memorial foundation Mrs. Helen Akor expressed happiness with the huge turnout and applauded the team, noting that with the massive results recorded within the first day of the medical outreach, the targeted and expected two thousand beneficiaries would be achieved at the end of the week- long exercise.
Click on the links below to read the full story and success stories of our historic event on ekohotblog.com